Welcome to the Limestone category for the Sir Grout Tucson Blog. Here you'll find blog posts related to limestone surfaces that we've restored. See the amazing transformations with the included before and after pictures. Feel free to share and leave your comments.
Published December 19, 2018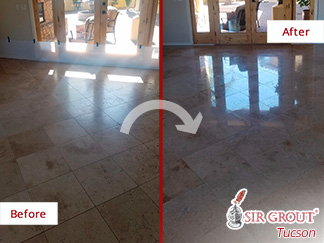 A Professional Stone Cleaning Job in Vail, AZ Gave This Travertine Floor a Wonderful New Look
Natural stone is an ideal choice for flooring. It offers durability, versatility, and a wide range of options, such as travertine, marble, and limestone. Many homeowners choose travertine because it is sturdy and can withstand wear and tear.
READ MORE